CLICK PLAY or
DOWNLOAD HERE
or.....
SUBSCRIBE TO THE FEED
This week we had the zany and talented thebiz on to discuss his recent surreal release, Tales From The People Zoo:
Other highly recommended viewing from thebiz, as mentioned on the show, are:
Travel With Berlitz
whitefish
Authored
We had a few special announcements to make on this week's show.
Anim8tor Cathy
revealed that the
iClone Wiki
is now also available in
German
. How nice to see the community expanding multi-nationally!
Also, it has been announced that the
International Machinima Expo
is being sponsored by Reallusion, and they are also donating some wonderful prizes. Thank you Reallusion for being involved with the entire machinima community!
Of course, the shocker of the week was the Stump the Wolf! question....as Wolf was....officially...STUMPED!!!
This week's listener freebie is a set of lovely high detailed but low poly vehicles. The actual modelling and development was courtesy of the now defunct Antics converted for general use through 3D Warehouse andbrought into iclone via 3D exchange. Specular texturing added.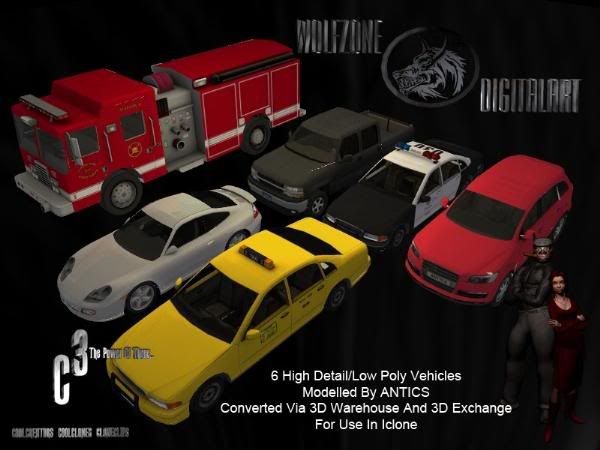 And, finally, enjoy the return of the promo videos by Wolf...